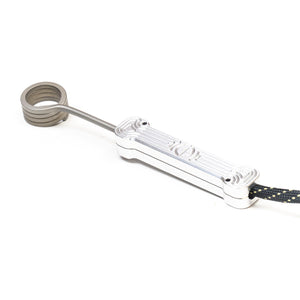 Aluminum Enail Handle (2943)
Regular price
$40.00
$0.00
Unit price
per
Keep Your Enail Handle Cool! 
Some Assembly Required 
Made in the USA 
Enail Coil Not Included 
Hempwick option available soon.

Rev B started shipping 1/25/23
Options:
Handle Only: We will install if specified in order notes. 
Handle & Hempwick : Will be shipped separately from any coil on the order. Handle only install must be specified in order notes. 
Installed Hempwick: We will install all of it. Coil must be purchased in the same order. 
Enail Handle
Looks nice. Easy to install. Nice addition to my CH setup.
Great New Handle
The texture gives it a nice feel. Nice upgrade over the previous version.
New CH Handle
Love this so much! It really matches with my stand, PID covers, etc! At first I was sceptical about it getting hot, but it doesn't. While I love the hemp wick handle, this one really has a better grip and matches all other New Vape/Cannabis Hardware Accessories.
Premium
Feels great in the hands. Hemp wick was a little waxy at first but dryed out after a day. Was great after that. Fit well on my own pid coil. I did have to slightly modify my coil because it had an extra piece of rubber between the metal coil and the insulated wire ao I did have to trim that for the aluminum coil to fit correctly
Give your enail some love too!
Easy to use and put together. Looks nice, good grip. A little smaller than I thought it would be. Does not get hot whatsoever.
Side note: I am not a fan of sticky hemp wick..I went ahead and got some 1.5mm leather rope that works perfectly and looks a little nicer. Also, not a fan of the gap at the top, but it's not a deal breaker.
---