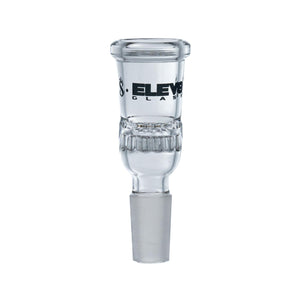 14mm Injector Style "Elev8" Glass Bowl (9426)
Regular price
$40.00
$0.00
Unit price
per
This is a 14mm "Injector" style Glass Bowl.  Perfect for use with the CH Injector Diffuser and any other Injector Style device with a 18mm Injector. Built-in Glass Screen. 
For use with 14mm Female Glass. 
works ok
It works pretty well once you find the right temp. Seems to need a little more heat than the shovelhead bowl to achieve similar results. Not a fan of the glass screen. If you throw another screen in there it gets too restrictive for me. I just poke the holes when they get plugged up and that works fine. Comparing the Injector to the Shovelhead I slightly prefer the Shovelhead
no good
Très mauvais bol sauf pour Dab, trop petite quantité de Weed, la grille qui bouge au moindre mouvement ce qui sali tout, donc je l'ai remplacé par 1 bol Herborizer et la je suis OK je le recommande.
---